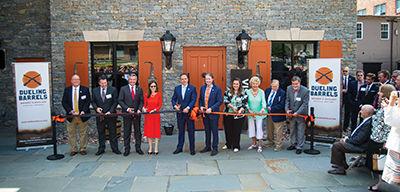 Pikeville facility is open for tours
PIKEVILLE — State and regional leaders converged on Hambley Boulevard June 27 for the ribbon cutting ceremony to honor the opening of Alltech's Dueling Barrels Brewery & Distillery.
Alltech co-founders Dr. Pearse and Deirdre Lyons felt a connection to Eastern Kentucky upon visiting the area. Alltech said Pearse Lyons saw the potential of Pikeville and Eastern Kentucky and how the landscape and the people of the area reminded him of his home country of Ireland. Pearse Lyons passed away on March 8 at age 73 due to an acute lung condition that developed during his recovery from heart surgery.
"He really felt there was a story here. He felt there was something to really share. This was a place he connected with and he connected with the people," said Alltech President Dr. Mark Lyons, Pearse and Deirdre's son. "Like many of his projects, this actually started out as a friendship. It was a friendship with Gov. (Paul) Patton."
Mark Lyons further highlighted the connections his father saw, such as the similarities in the people, the music, the alcohol and the cultures of Eastern Kentucky and Ireland. Through their work, Pikeville and Dr. Pearse Lyons' hometown of Dundalk, Ireland, were announced and celebrated as sister cities. Alltech also announced a distillery will be opened in Dundalk.
"As Dr. (Mark) Lyons mentioned, Pikeville has a twinning agreement, or sister city agreement, with ... Dundalk," Pikeville City Manager Philip Elswick said. "Mayor (Jimmy) Carter and the city commission congratulate Dundalk on the opening of its distillery, and the City of Pikeville looks forward to the future as we explore ways to partner with our sister city."
Deirdre Lyons said the goal of Dueling Barrels was to grow jobs and bring increased tourism to Eastern Kentucky.
"His (Pearse's) vision was to grow jobs in Eastern Kentucky. We wanted to have good paying, secure jobs that would lead to more tourism coming to Pikeville and Pike County," Deirdre Lyons said.
After Pearse Lyons passed away in March, Deirdre and son, Mark, continued to push forward for the completion of a "labor of love for three years," Deirdre Lyons said.
"We have some wonderful new people working with us. We hope that Pearse's dream will flourish and people will come as tourists," Deirdre Lyons said. "We see the payoff as the creating of jobs, the happy atmosphere when you walk in here, the tourists that come to spend money in the city, to go to restaurants, to go buy gifts — tourism, that is what really has to take over."
Elswick said Pearse Lyons' vision will have a lasting effect on the city and the region.
"Dr. Lyons was a true visionary. He had great things in mind when he chose to place a new distillery in Pikeville," Elswick said. "The opening of the world class brewery and distillery Dueling Barrels is a historic and transformative step for Pikeville and the surrounding area. There will be many people visiting our area that likely would have never been here if not for Dueling Barrels."
With the increased tourism, Mark Lyons said, he hopes to not just draw tourists to Dueling Barrels, but also to all of the area.
"The goal, which it isn't just a goal of ours but a goal of the whole community is, how do we get more people to come here? We don't just want every tourist that comes through Pikeville to just come to Dueling Barrels. That would not be success," Mark Lyons said. "Success would be if we double the number of tourists who come to Pikeville."
The highlighting of the area, not just the business, Gov. Matt Bevin said, is because the area is "truly magical."
"When you stand here and look around, these hills around here are magical, they are beautiful. Mark and I were talking about the upside surprise that people have ... they don't think about something as stunning as this," Bevin said. "When you wind your way in and suddenly this valley opens in front of you ... these buildings are fantastic. Healthcare systems and universities and distilleries that are world class. It is beyond what all expectation could be."
The facility is Eastern Kentucky's first legal combined beer, bourbon and moonshine operation that will officially join the Kentucky Bourbon Trail in January. But, Bevin said, the brewery, which will become the easternmost point of the trail in January, is already a part of the Bourbon Trail. 
"In January, you said you are going to be on the Bourbon Trail," Bevin said before he entered the building. "Trust me, in about five minutes you are going to be on the Bourbon Trail. It is already there. The publications may not have been printed, but you are already there."
Mark Lyons said he hopes to capitalize on being the furthest east of all facilities on the trail.
"Not just the furthermost east, but also the closest (to the east coast). What we really want to draw is, how do we get people to cross the mountains and come over from the east coast?," Mark Lyons said.
With the growth of tourism, even in Asheville, North Carolina, the Lyonses spoke on being around three hours from that growing area and helping to move those tourists even more north.
"That is a real tourists' place and maybe they will decide to continue on this way," Deirdre Lyons said.
Mark Lyons said the Pikeville area is uniquely positioned to capitalize on multiple avenues of tourism.
"We can extend the Kentucky Bourbon Trail 140 miles east. We have a massive population that, now, all they have to do is come across the mountains," Mark Lyons said. "This is the start of the Bourbon Trail, not the end. We already have the 'Corridor of Moonshine,' from West Virginia down to Tennessee, and we are in the middle of that. There is a growing brewing scene all through Appalachia and Pennsylvania and down to Asheville."
Elswick said Pikeville has been working to hit that tourism avenue, including the efforts to make the Kentucky Bourbon Trail.
"Mayor (Jimmy) Carter and the commissioners have placed a strong emphasis on our tourism efforts and Dueling Barrels opens many avenues to attract tourists," Elswick said. "With today's announcement that Dueling Barrels will be on the Bourbon Trail, Pikeville will have the opportunity to showcase itself to countless visitors each year."
Mark Lyons and Branham said the facility was ready to hosts tours on June 28 and many locals are employed at the facility not as tour guides, but as story tellers.
"They are from here. They know the history of this place," Mark Lyons said. "What they tell you is not about Dueling Barrels. It is about the history of Eastern Kentucky."
Bevin said with the lack of knowledge of the area in general populations and the devotion of the Lyons family, he could see the doubling of tourism accomplished.
"We know this exists and others knows this exists, but much of the world doesn't," Bevin said. "It shouldn't be hard for us to double the amount of tourists coming to the area."
Bevin also spoke on the uniqueness of the Lyons family and their dedication to making the region, the state and the world better for others.
"I cannot even begin to articulate how grateful I am to you for your passion, your vision. Your dad and your husband was an extraordinary man. He was a man who willed things to fruition," Bevin told Mark and Deirdre Lyons. "And why was that? It was because he believed in the power of one: One person, one idea, one mission — these are the things that have changed the world. That is why I am just grateful to have known him both personally and professionally. I am grateful for the vision your family has and your graciousness in the pouring of yourself and your resources not just into this area and to this state, but to the country and to the world." 
Tours will start Thursday, and run "every hour, on the hour." 
The facility will be open Monday through Saturday from 10 a.m. to 5 p.m. and on Sundays from noon to 5 p.m. The Dueling Barrels Gift Shop will also be open.
Starting later this fall, Pearse's Place, a taproom inside of the facility, will operate daily from 3 p.m. to 11 p.m.
Dueling Barrels will provide Kentucky Moonshine in Original, Apple Orchard, Bonfire and Mountain Flower flavorings as well as craft beers including Pikeville Ale and taproom exclusives including Cut Thru Hefe, Appalachian White Ale, Big Sandy Cream Ale, Hopfield & McCoy IPA, Black Mountain IPA and Coal Porter.