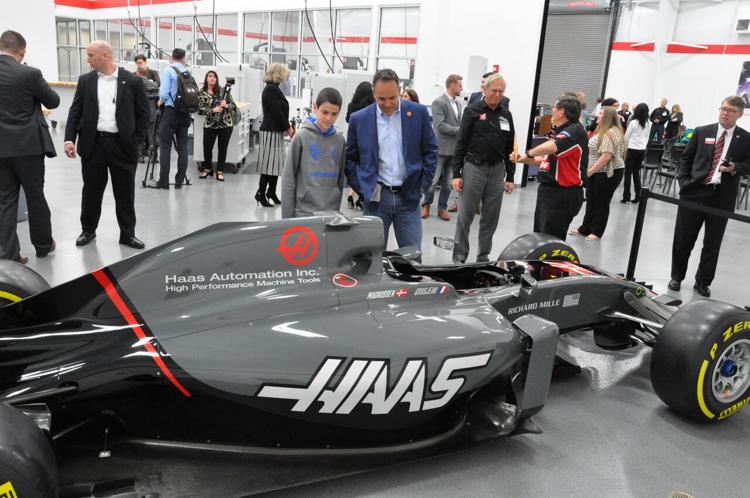 The Haas eKentucky Advanced Manufacturing Institute held its grand opening celebration Tuesday, complete with visits from Gene Haas, found of Stewart-Haas racing and Gov. Matt Bevin. 
The ribbon-cutting for the 40,000 square-foot workforce training facility is a step towards making the "vision of a transformed Appalachian region" a reality, according to a statement released by eKAMI, which will offer 16-week training programs for positions in advanced manufacturing with the goal of "building a skilled workforce that will attract advanced manufacturing to the region." The opening of the facility comes on the tail of an announcement by eKAMI that manufacturers worldwide are struggling to find qualified workers. The statement said 3.5 million jobs in the field would be unfilled by the year 2025, according to eKAMI's projections. 
"We're thrilled to bring modern manufacturing to the mountains," said Kathy Walker, director of eKAMI, who worked for 30 years in the coal industry before establishing the institute. "This is about diversifying the region's economy and finding sustainable answers, about taking our hard-working Appalachian workforce of today and preparing them for the jobs of tomorrow."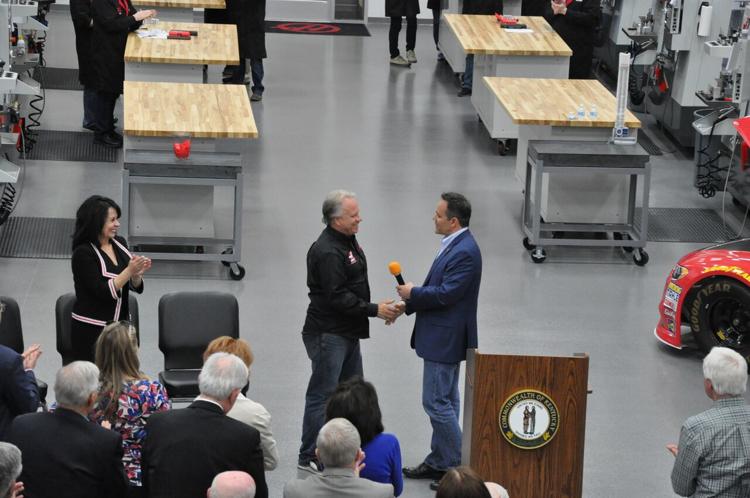 This sentiment is shared by Bevin, who said at the ribbon-cutting that he wants to see Kentucky become the engineering capital of the United States, and said he is grateful to Haas for providing our region with an opportunity. 
"There was nothing here," Bevin said. "(Haas) was willing to bet on the people of Johnson County. I truly am grateful to you for taking that bet.
"This is an exciting day," Bevin said.. "For Kentucky to remain the center of excellence in America for engineering and manufacturing, we need a steady supply of the most qualified and highly trained workers. The opening of HAAS' eKAMI, as well as its partnership with the Advanced Robotics for Manufacturing Institute (ARM), will provide the next generation of Kentucky's skilled workforce with training opportunities in both HAAS CNC machines and robotics. Graduates of eKAMI will attract advanced manufacturers to Johnson County and the surrounding communities. Across the Commonwealth, in every region, Kentucky is moving forward and the future is very bright for our economy."
Johnson County Judge-Executive R.T. Tucker Daniel echoed a similar sense of gratitude. 
"It means so much to Johnson County," Daniel said. 
According to the statement, students at the facility will train using Haas' state-of-the-art equipment in fields including computer numerical control (CNC) machinist and machine building and tool maintenance technicians in the aerospace and advanced manufacturing industries. The institute's first class began 13 weeks ago, the statement said, with 12 students, including five Johnson County residents, ranging in age from 18 to 55 years. Tuition for the program totals approximately $11,000 and all of the currently enrolled students have received private and grant funding to cover these costs. The programs are open to any individual seeking advanced manufacturing training and is expected to draw students from multiple counties and surrounding states, according to the statement. 
eKAMI was initially funded by a $1.5 million grant from the Gene Haas Foundation, the statement said, and later received a $2.5 million Kentucky Division of Abandoned Mines grant, as well as donations from the private sector, such as Kentucky Power.
According to the statement, Haas is the top American manufacturer of CNC machine tools and cofounder Gene Haas, also well-known in the motorsports arena, founded NASCAR's Stewart-Haas Racing and Formula One's Haas F1 team, an experience that he drew on when he likened the ups and downs of the economy to the world of racing, stressing the importance of perseverance to success.
"Eastern Kentucky doesn't give up," Haas said. "No matter how many times you get kicked around, you've got to figure out how to come out on top."
To learn more about eKAMI, or to apply for one of its programs, visit, www.ekyami.com.