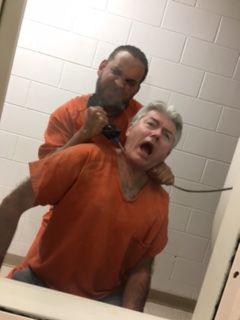 A Johnson County man will be featured in "Choices," an upcoming film to debut at the Christ Temple Church in Huntington, West Virginia on April 20 and 21.
Rick Roberts, a long-time thespian and Johnson County native, is featured in the film as a co-inmate to star Ron James, a motivational speaker and the author of a book, also titled "Choices," which chronicles James' long history with the correctional system. 
James spent 25 years in prison after a series of decisions that included selling and partaking in drugs and becoming an alcoholic. The book, and now the film, tells the story of James' life and how he overcame the consequences of those decisions. 
James has traveled the region extensively, talking to folks about the importance of these choices and the possible repercussions of choosing the wrong path. 
"We chose to have the first showing of the movie in Huntington because the movie was filmed there and received tremendous support from the community," James said. "We plan to make it a celebratory event."
Landau Eugene Murphy, Jr., a former car wash worker and 2010 winner of America's Got Talent, will perform before the showing of the film, showcasing his jazz-based vocal styling. The show begins at 7 p.m. both nights, with the film beginning at 7:30 p.m.